The image of hundreds of baby spiders exploding out of a horrified girl's face is probably emblazoned in your memory for the rest of time thanks to Alvin Schwartz's Scary Stories to Tell in the Dark. On top of that, you probably have the rest of these creepy kids books to thank for your mounting therapy bills. As an adult, it's shocking to revisit these books and wonder how in the world anyone thought these were appropriate for children. Buckle up and brace yourselves for this terrifying walk down memory lane.
Footsteps on the Stairs
This YA novel from C.S. Adler pretty much ruined family vacations for us. We're introduced to Dodie, who is at a beach house to get to know her new stepbrother and stepsister Anne. At first, Anne and Dodie butt heads, but when they hear some mysterious footsteps outside their door, the two must come together to appease the restless ghosts, who also happen to be sisters! Not really your ideal trip …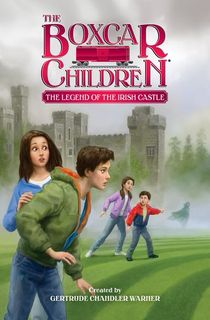 The Legend of the Irish Castle
The scariest entry in the Boxcar Children series, The Legend of the Irish Castle takes the Alder children on a visit to Ireland. They are met by a mysterious caretaker, and at night are terrified by the sight of a ghostly figure wandering the grounds. Could it be a prank, or is the Irish castle actually haunted? Leave it to the Boxcar Children to solve the mystery; but as kids, we could barely turn the page.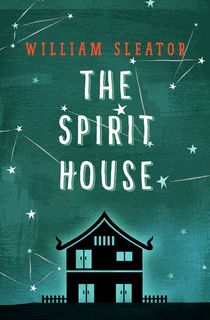 The Spirit House
It's always exciting when a foreign exchange student comes to stay with your family—but not if that foreign exchange student turns out to be some kind of demon! When Julie's brother Dominic builds a Thai spirit house for foreign exchange student Bia, to help him feel more at home, Bia changes … and not for the better. This book had us telling our parents we could skip the foreign exchange program, uh, indefinitely.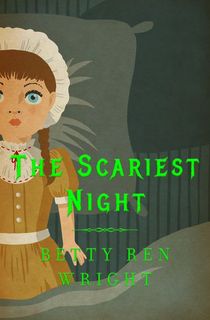 The Scariest Night
Erin had it made as the beloved only child in her family, until her parents took in Cowper—a nine-year-old musical prodigy whose parents were killed in a car crash. Suddenly, Erin finds herself uprooted to Milwaukee so that Cowper can take piano lessons. When Erin meets the medium Molly Pancea, all heck breaks loose. Long story short, this book lived up to its title.
The Witches
There aren't words to describe the first time you read Roald Dahl's absolutely terrifying book, The Witches. Re-reading it as an adult has you asking serious questions about the novel being intended for children. As if it weren't bad enough that the main character is orphaned, he's also being hunted for a witch's supper! Throw in some face-removing scenes and mouse transformations, and you've got the stuff of nightmares. Forever.
Scary Stories to Tell in the Dark
The stories in this three-volume series by Alvin Schwartz are made even more terrifying by the brain-searing illustrations by Stephen Gammell that accompanied them. Remember the girl who had a spider lay eggs IN HER FACE? All the stories included in this collection are based on folklore and urban legend, so they definitely stand the test of time. Schwartz would be happy to know he's kept therapists in business from the never-ending trauma of reading this book.
Wait Til Helen Comes
After reading this young adult novel, we became that friend in the group who said, "Hey, how about we DON'T wait until Helen comes?" Basically, if your parents get remarried and you move to a house with a graveyard in the backyard, it might be a good time to ask your mom if you can go to boarding school. As if Heather's life wasn't tumultuous enough, now she's got a ghost named Helen to deal with, who wants Heather to join her . . . on the other side. Nope. Just no.
Coraline
Coraline has always wondered where that mysterious door in the back of the drawing room leads. Doesn't she know that curiosity killed the cat? Behind the mystery door there's a bizarro world, where everything appears the same, but is just wrong—including her parents' creepy black button eyes! How in the world are we (and Coraline) supposed to get back to the real world? Thanks, Coraline, for the night terrors.
Outside Over There
We're all familiar with Sendak's classic children's book Where the Wild Things Are, but maybe you never had the pleasure of reading his later book, Outside Over There, in which young Ida must rescue her baby sister from goblins. You read that right: goblins. And not friendly, singing David Bowie goblins like in Labyrinth. Nope, these terrifying goblins have you questioning why anyone would read a book to a child that was inspired by the Lindbergh baby kidnapping. Not kidding!
In a Dark, Dark Room
We love to be scared (and scarred) by Alvin Schwartz so much we had to include his collection for younger readers on this list as well. In a Dark, Dark Room includes the scare-the-bejesus-out-of-you short story "The Green Ribbon," about the girl who wears a green ribbon around her neck. And don't ask what happens if she takes it off, because oh my god are you crazy?
Bridge to Terabithia
We had to include this YA novel by Katherine Paterson not because it's "creepy," but because it's totally and utterly traumatizing. Spoiler alert: But that "bridge" (a rope swing) is not so secure. What started out as a delightful book about young love and magical realism ends as a bleak, slap-in-the-face allegory about death and loss. Let's just say, after we read this we immediately begged our parents to get us on the swim team.
Holes
Despite the fact that this book won the National Book Award for Young People's Literature and the Newbery Medal (and is a classic), looking back now … this story is downright terrifying. Poor Stanley Yelnats, suffering from a family curse, is wrongly sent to a juvenile detention center where he must spend the whole day digging holes five feet wide and five feet deep. What is he digging for? Suddenly arts and crafts at summer camp seems rather tame.
This post is sponsored by Open Road Media. Thank you for supporting our partners, who make it possible for The Lineup to continue publishing the creepy stories you love.
Featured photo via cover of: "Scary Stories to Tell in the Dark"